SlowHoe: Weed it and Weep ã Volunteer Vacations!
Have you always dreamt of enjoying an exceptional holiday "Under the California Sun?"
Are you a vigorous, high energy person who just has to "keep busy" while on vacation?
Does the prospect of being able to casually tell your colleagues, "Yeah, I helped with the harvest" give you tingles in places you don't talk about in polite company?
If you answered "Yes!" to any of the above, you definitely want to get in on the ground floor of one of the hottest trends in travel today: "SlowHoe: Weed it and Weep ã Volunteer Vacations!"
Slow Travel Tours has designed an exclusive escape that will give you a glorious physical workout while providing you with guilt free smugness in knowing that you're contributing to habitat restoration in the green heart of California - the urban delight of Silicon Valley!
A SlowTrav moderator has selflessly offered her extensive front and back yards for the inaugural season of the newest trendy Slow Travel Tours offering: "SlowHoe: Weed it and Weep ã."
By a brilliant stroke of luck, 2008 has been a particularly wet year and the weeds are quite lush in the massive property!
Clever volunteers will have many opportunities to:
Howl with bushy glee after eliminating hedgehog dogtailgrass
Dance with nationalistic delight after yanking up European hair grass and Australian saltbush
Hop with cottontail joy after eradicating rabbit foot polypogon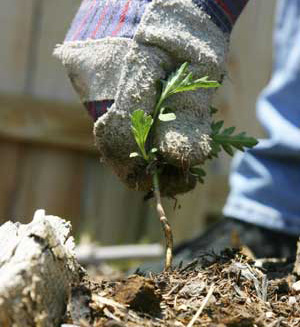 Yank to your heart's content
We look forward to seeing our dazzling volunteers savor the intense pleasure of identifying native plants … did you know that the California poppy acts as a mild sedative when smoked? (A good thing to keep in mind, because, sadly, our shrewd volunteers will be way too busy pulling weeds and won't have time to explore the charming valley in search of painkillers.)
If you can hit a golf ball (and really, who can't?) you're a prime candidate to develop and refine your weed whacking skills while relishing your SlowHoe: Weed it and Weepã volunteer vacation!
Dig, dig, dig!
If you're one of those remarkable people who truly enjoy digging, kneeling, bending, toting, hauling, stooping, crouching, getting dirt under your nails, under your socks, in your hair - look no further for your next dream vacation destination! SlowHoe: Weed it and Weepã is saving a place for YOU!
Bonus tour: Weed and water mod-pal Darci's vegetable garden while she's on vacation in Italy. No extra charge!!
Bonus bonus: *FREE Motrin to all volunteers!!
*Limited to one per week
Watch this space -- soon Slow Travel Tours will be expanding SlowHoe: Weed it and Weepã to the fertile garden state of New Jersey and home of the revolution, Boston! How incredibly lucky for next season's swanky volunteers! We're even going international when we open the fanciful unrestricted lands of the "Toronto Terror" to our unique volunteers!
You probably saying to yourself, "Gee, I'll bet it costs a LOT to participate in such an elite ground-breaking tour!"
Wrong! It's ‡FREE!
‡Note: volunteers must provide their own energy efficient transportation (bicycles are recommended), lodging, food, drinks (no alcohol, please), sunscreen, gloves, work boots, hand lotion, designer sunglasses, organic lip balm, Zinc ointment, trowels, rakes, shovels, ladders, lawn aerator shoes, touch-up paint, cat treats, hoses, rabies vaccine, snake venom antidote, tick removal kits, skunk repellent, and Tilley hats. All volunteer property must be clearly identified. Any and all non-identified property is subject to confiscation on a daily basis. Note also that California labor laws require volunteers to provide a current work visa, health insurance, fully vested pension plan, "valid" photo identification (must be carried on volunteer's person at all times), and of course volunteers must undergo the Slow Travel Tours mandatory physical. The SlowHoe: Weed it and Weepã administrative fee for processing the paperwork for the above is a paltry €10,000.00. (US currency not accepted until its value improves.)
Now, aren't you ready to follow your heart and finally "live like a local" in a Californiatastic way?