Escape from Poggibonsi
A tour to the heart of Tuscany with moderator Maureen. Other moderators will join if required.
Poggibonsi - that exotic land!
Poggibonsi - so close to everything, and yet so far away!
Poggibonsi - the place that my sister claimed to be from when she first moved to Florence and someone commented "You have an accent I can't quite place?"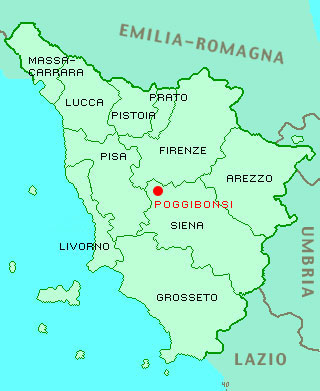 You've been lost there how many times? You have inadvertently spent countless hours there, in search of someplace else? You have been trapped in one of the roundabouts searching for a sign to, at some point, anyplace that sounds vaguely familiar that is NOT Poggibonsi?
Wouldn't it be great to confidently say to your fellow guests in your next Heart of Tuscany rental apartment/villa/agriturismo "Oh, I'll just drive over to the COOP in Poggibonsi and buy some salt!"? And return, untraumatized, the same day?

Well now you will have the opportunity to experience and explore the town of Poggibonsi. At length. Ad infinitum, as it were, for 12 (give or take) entire days. Accompanied by SlowTrav's most geographically challenged moderator, Maureen.
*Note that group size is limited to the amount of Slow Travelers who can fit in a Fiat Multipla. A reading list will be provided prior to departure. It is strongly suggested that each group member bring a map and compass, a cell phone, and perhaps a binky or some other self-soothing device.
"He journeyed on until he reached Poggibonsi..."
-G. Vasari, Lives of the Artists
Day 1
We will meet at the SITA bus station in Florence and take the first bus to Poggibonsi.
NO SLEEPING ON THE RIDE - PAY ATTENTION!
Upon arrival, we will tour the bus station, then re-board the bus to Florence, where we pick up the Fiat Multipla. We return to Poggibonsi and check into our accommodations: Villa San Lucchese, chosen because it has the best directions and map from the very short list of accommodations in Poggibonsi "centrale".
Dinner at the Villa, if we arrive in time.
Days 2 - 6
To get the lay of the land we will attempt the three trekking routes described on the comune's own website.
Please don't be concerned by the large-print warnings at the top of the page, disclaiming any responsibility for the accuracy of the directions and/or the results of following them. The SlowTrav moderators are quite confident that this is a minor design flaw of the website, and it is supposed to be in fine print at the bottom, like most legally driven disclaimers. Not a problem. (Although it should be noted that the SlowTrav moderators have consulted with our legal staff, and we do agree with the disclaimers.)
Lunches will be taken at one of the many fine trattorie or quaint ristorante we will encounter on our treks. Or whatever we've managed to steal from the breakfast buffet that morning and take with us.
Dinners at the Villa; again, if we return before the chef is already at home in bed.
Days 7 - 11
It's into the Multipla to explore the sights! Everyone will be forced - uhhhhh, make that have the opportunity! - to drive.
We will become experts at navigating the roundabouts!
We will master the entrances and exits to the COOP! We'll even tour the actual COOP!
We will find the ways into and out of town!
We will identify the 24 hour pharmacies.
We will memorize the phone number for the local taxi and have them meet us and lead us where we want to go.
This is the time for you to have a list of places you want to escape to on future trips- that adorable agriturismo near Siena; the chic villa in Certaldo; the 6* hotel on the outskirts of Arezzo! We will attempt to find them all. And return safe and sound to Poggibonsi. What an amazing feat!
One night we will try to have dinner at a place other than the Villa. If anyone feels like driving home after dinner, of course.
Day 12 to ... whenever
Time to pack up the maps, the GPS devices, the reams of shakily hand-written directions and return the Multipla to Florence! A real-time test of all we've learned.
Most of all, we'll pack up our memories. Like most survivors of a disaster, we'll have formed strong bonds based on that commonality. We will (hopefully) be among the elite group that can say "Yeah, OK, I'll drive to Poggibonsi!"
We'll always think fondly of the group member we lost on Day 3 (or was it 4?) while on the Arancio trekking route. (Unless we find out he/she actually bailed on us, called a taxi, and has been staying at a spa in Montalcino since then.)
Click to sign up for this tour!!