Slow Travel Trip Planning Services
We have thousands of books and maps - thousands!!
Do you find that planning your trip takes too much time? Are you "too busy" to do all the work required? Let us help you! We will show you how to do effective travel planning.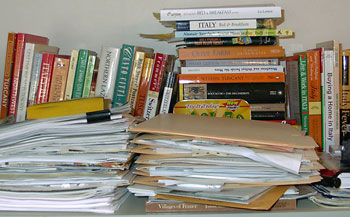 Look at this photo! Look at all the travel books we have!
We do not plan the trip for you (I like planning my own trips, but - please - I don't want to plan yours for you!) - instead we teach you how to do it yourself. Like teaching a man to fish - except that I hate fish. Like teaching a man to grow carrots!
Step 1 - Fill out the survey
First we send you a 50 page survey, to determine your likes/dislikes, passions/preferences, life goals/life style, level of wealth (please provide the last five years of tax returns), food preferences, art preferences. We run this survey through out Slow Travel Determinator™ to find out which countries and places will be best for your vacation.
The result is usually Italy - Rome, Tuscany, Florence (yes, we know Florence is in Tuscany). So, if you want to skip the survey, we can just go with that.
Step 2 - Read the recommended guidebooks
We go through our thousands of guidebooks and determine which ones are right for you. We turn down page corners, mark up pages with our yellow highlighters, use cute postit notes to point out things you MUST read and make some notes in the margins.
We find some novels set in the place you will be visiting and one or two "I moved to 'x' and the rest of you can kiss my ---- because you are idiots if you don't live here too" memoirs. Then we box them all up and ship them to you overnight. There will be no fewer than 20 books, so make sure your evenings are free for the next two months.
Maybe you don't have time to read all these books, so just read "Under the Tuscan Sun".
Step 3 - Read the Slow Travel website
Now you can proceed to the SlowTrav website!! This is where the read fun begins. We send you an email with links to SlowTrav pages relevant to your trip.
Everyone must read and memorize Pauline's 16 page "What is Slow Travel".
We assign you trip reports, Instructions for Visitors pages and travel notes to read. Make sure your evenings are free for the next two months.
If you are busy, just read Pauline's Trip Report pages and that will be good enough.
Step 4 - Post on the Slow Travel Talk message board
If you are reading this, you are well on your way to a vacation!! Now the mega-fun begins. Join the Slow Travel Talk message board!! Start asking questions. We recommend something like: "Can I see all of Italy in 3 days?" so that you will get a big response from our message board members.
Use the message board to plan your trip. Take your itinerary and for each destination ask about accommodations. Pick the ones that sound best from the answers.
Unless you don't have time to spend on a message board, then we can just say "a week in Tuscany" for your trip plan.
Step 5 - Book your trip!
You are ready! Book your flight, book your accommodations, book some day tours. Any questions? Post them on the message board.
But, you are a busy person - just book with a SlowTrav favorite for your week in Tuscany. There you go - trip researched and planned. All you have to do is go.
Costs
$10,000 upfront payment so we know you will take this task seriously. You promise to submit a full trip report (with photos) and reviews after the trip.
Thanks and have a great trip!
Click to sign up for this service!!