Switzerland From Altdorf to Zurich
Steve and Pauline's alphabetical tour of Switzerland.
It can be done in seven days, but on this tour, we will take as long as it takes!! What fun!!

What better country to see in an obsessive-compulsive way than Switzerland? They have taken obsessiveness from a compulsion, to a fine art!
On this tour we combine our obsession to see towns alphabetically with our unwillingness to commit to a plan ahead of time. We will be free as birds, taking us where the wind blows us, as long as it blows us alphabetically through the towns. Have no fear, Steve and Pauline have been to each of these towns, or have driven nearby, and can absolutely locate the towns on a map, so we know they will be lovely!
Switzerland is the perfect choice for this adventure! They have a town for every letter of the alphabet, except "x" - but we have a solution for that!
Each time we arrive in a new alphabetical town, the group of travelers will vote if we should have a meal or spend the night and how long to spend there (if the group is undecided, or does not come to a consensus in 3 minutes after arrival, Pauline makes the decision). The tour might last seven days or it might last seven months. Maybe we will decide to spend a full day in each place - 26 days! Maybe we will go through the alphabet - TWICE!!
Tell the post office to hold your mail and make sure you have all the lights turned off at home - who knows when you will be back!!
Transportation
The public transportation system in Switzerland is the best in Europe, so we will use it exclusively on this trip. Trains, buses and boats will get us through the country. Buy at least a one month train pass for this trip.
Accommodations and Meals
We will be traveling in summer, which is not the high season in Switzerland (winter skiing months are high season!), so no need to worry about booking hotels ahead of time. Instead, when the group decides to spend the night in a town, we will use the hotel booking board that you find either at the train station or in the tourist office to find our accommodations for the night.
1 star, 2 star, 3 star, 4 star, or 5 star - each person gets to decide for themselves (after all, you are paying for your own accommodations).1
We will be organized about our meals though; breakfast in the hotel breakfast room, lunch always between 12:30 and 1:30 (otherwise we may not find any place open!), and dinner at 8:00pm. The Swiss Way. No snacking - except on chocolate!!
Rules
A good tour of Switzerland must have rules:
We must visit the towns in alphabetical order, but substitutions may be done on the fly (Aosta instead of Altdorf, Brig instead of Bern).
If substitutions are made, no one can complain.
Pauline has veto power on every decision of any kind.
We can only spend the night or have meals in one of the alphabetical towns. All other towns are for passing through only. I don't care if you are hungry, we stop at the correct destinations.
When you are on the train and it goes into a tunnel, close your window. One time I did not do this and someone hit me on the head! Learn from my mistakes and do not annoy your fellow passengers.
The tour must be completed. You cannot bail out in the middle of the alphabet. You made a commitment - honor it!
Trip Plan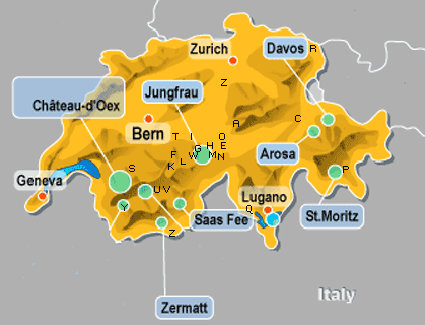 Follow our alphabetical route through Switzerland
We fly into Zurich airport, arriving early in the morning, get on the train to head straight to our first destination.
A is for Altdorf (UR)2: It is an easy train ride from Zurich airport to this delightful town in the center of Switzerland, so it is a perfect place to start our tour. We even know a good restaurant here for lunch! We also know a good auto mechanic here (don't ask).
B is for Bern (BE): Another train ride west to the capital of the Bern canton - Bern! See the bears, tour the town. The Bern canton is our favorite and it is good to start by seeing the capital, because we will be spending a lot of time in this area on this tour. We have never been to Bern, but have driven by many times.
C is for Chur (GR): Back on the train to ride back across Switzerland to our next town. (Switzerland is small; don't worry about all the back and forth of this trip.) Chur is one of those towns that everyone passes through. It is the place where you change trains for eastern Switzerland and is right on our route to our next letter.
D is for Davos (GR): A short train ride to the town of Davos. We spent a week here in 1996 and loved this town. Read Thomas Mann's "The Magic Mountain" to get a feeling for the slow pace of life in Davos. That can be your reading material for this trip!!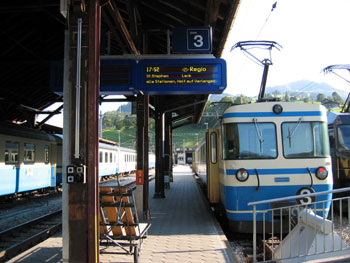 We will be riding a lot of trains!
---
E is for Engelberg (OW): Train back to the center of Switzerland, just past Altdorf, to Stans on the southern edge of Lake Lucerne, where we switch to a mountain train to take us up the valley to Engelberg, an enchanting village where we spent a week in 2002.
F is for Frutigen (BE): Back down to Stans on the mountain train, then hop on the main train line for another easy train ride through the Berne region, along Lakes Thunder and Lightning, and up the Kander Valley to this delightful town where we used to shop for groceries when staying in nearby Kandersteg in fall 2000.
G is for Grindelwald (BE): Back down the Kander Valley, to Spiez, and Interlaken, where we change to a mountain train to go up to Grindelwald and the Eiger. We love Grindelwald and have spent many weeks here, hiking and touring the area. The woman we rent an apartment from runs a shoe store in town. Maybe we will stop and say hello. We know a very good tea room here! We could show you the "wall of chocolate" at the grocery store (well, you can see that anywhere in Switzerland).
H is for Hasliberg Hohfluh (BE): Back on the train, back to Interlaken, then on the main train to Meiringen. Hasliberg Hohfluh is a mountain town, above Meiringen. We have not been there, but have driven nearby, and I figure with all the "H"s in this town name, it is a good choice. The train does not go here, but we can get there by mountain bus or take gondola from Meiringen and then walk.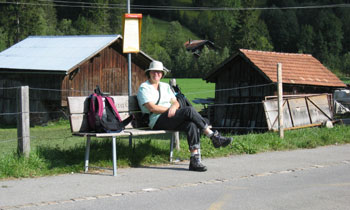 We will be waiting for a lot of buses!
---
I is for Interlaken (BE): Back by bus and a short train ride to Interlaken - between the lakes - in between Lake Thunder and Lake Lightning. This is a delightful town with nice trails along the lakes. We spent a few nights here in 1988 on our first trip to Switzerland, and go back for day trips when staying nearby.
J is for Jungfraujoch (BE): This is not a town, but it is a mountain and a stop on a train line. Take the mountain train from Interlaken all the way up to the top of Jungfraujoch. This is a slow and long ride (and expensive - probably not covered by our rail passes), but you get to the top of the world!! And it is a "J". We did this train ride in 1988 and never felt the need to do it again (until now!).
K is for Kandersteg (BE): Back down to Interlaken where you get off the mountain train and get on a regular train for Kandersteg, a nice town at the end of the Kander Valley. We spent 10 days here in October 2000.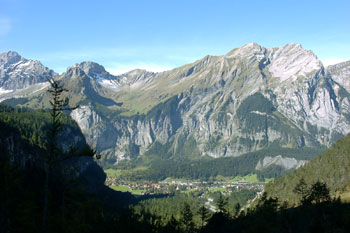 Kandersteg in the Berner Oberland
L is for Lenk (BE): Back down the Kander Valley and then up the Simme River Valley to Zweisimmen, where you change trains for Lenk, a small town at the end of the Simmental Valley. This is a pretty town, nestled in the mountains. We spent a few nights here in 1988, and visited again in 2003.
---
M is for Meiringen (BE): Back down the valley and back track to Interlaken, then continue on to Meiringen, a lovely mountain town made famous by Sir Arthur Conan Doyle, who set a famous Sherlock Holmes scene at a nearby waterfall (see the statue in town), and by the Swiss invention of the dessert "meringue" (sugar and water). We did a day trip to this town a couple of years ago, and spent a few hours there once in 1988.
N is for Nessental (BE): We are in luck with this town, just a few miles past Meiringen. Take a bus here. We drove by here years ago on our way to Grindelwald (going the other direction).
O is for Oberdorf (NW): Bus back to Meiringen, then get on the train towards Stans, at the base of the Engelberg Valley (where you were earlier) and get off at Oberdorf, just outside of Stans. This is a pretty area on the south edge of Lake Lucere. I remember some big super markets in Stans. We don't need to stay long here - this is just fullfilling the "O" obligation.
P is for Pontresina (GR): This next bit is complicated, but worth it! Take a bus to Altdorf, then get on the train heading south to the Gottard Pass (thank goodness you are not driving - 30 minutes through the Gottard Tunnel is nerve wracking). Get off the train at Andermatt.
Now you are in for a treat!! And you finally get out of the Berner Oberland and surrounding small cantons. Here you will get on the Glacier Express, a special mountain train that goes from Zermatt to St. Moritz, along the top of the Alps. Get off at the end, St. Moritz and then it is just a short train ride to Pontresina. We have never been to Pontresina, but did go to St. Moritz and one year I tried to find a good apartment in Pontresina, but we ended up in Engelberg instead.
---
Q is for Quartino (TI): Another wonderful ride! Train to St. Moritiz, then take the Bernina Express from St. Moritz to Tirano in Italy (a bonus country!!), where you take a bus to Lugano. From Lugano, take the train to Quartino, near Locarno. We have not been to this town, but have driven nearby. There are very few "Q" options in Switzerland.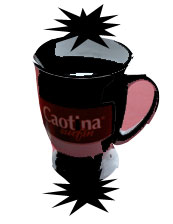 R is for Rorschach (SG): Rorschach is a small town on the southern shore of Bodensee. We have never been here, but we have been to Konstanz on the German side of Bodensee. Who can resist this name? Rorschach!! Take the train the length of Switzerland, from Quartino near the border with Italy, to Rorschach on the border with Germany.
I see stopping for hot chocolate in Rorschach - maybe you see having a snack?
S is for Saanen (BE): Back on the train and back across much of Switzerland to Bern, then Spiez, then to Saanen-Gstaad in the Berner Oberland. Saanen is the quintessential Swiss town in a lovely valley surrounded by mountains. We spent two weeks in Saanen in 2003 and have decided this is our favorite spot in Switzerland.
We seem to be spending a lot of time here (that is because my previous obsession was staying for at least a week in every single valley in the Berner Oberland).
T is for Thun (BE): This one is easy. Take the train from Saanen, back to Spiez, then to Thun on Lake Thunder - the opposite end from Interlaken. We have stopped here for lunch on a couple of trips and liked this pretty and historice town.
---
U is for Unterbach (VS): You may be asking "when are we going to the Valais?" Now!! And from the perfect starting point. From Thun, take the train to Spiez, then to Kandersteg, but do not get off - you take the train through a tunnel in the mountains and come out in the Valais!! Get off the train in Visp and hitchhike or walk the few miles to Unterbach (no bus or train service - sorry).
V is for Visp (VS): Hitch back to Visp - only a few miles. Another town everyone knows because you change trains here. From here you can get the train to Zermatt (the Glacier Express) but we are not ready for that yet.
W is for Wengen (BE): Take the train back through the mountains, past Kandersteg, to Spiez and then to Interlaken. Change trains in Interlaken and take the mountain train to Wengen, a gorgeous town on the edge of a mountain just a few miles west from Grindelwald. We have never spent a night here, but have done lots of day trips from Grindelwald.
X is for Chateau-d'Oex (VD): Okay, there are no towns starting with "X", but this one ends in "X", so we will settle for that (Pauline says so). Train back to Interlaken, main train to Spiez and then up to Saanen, where you were recently, but continue into the French part of Switzerland, to this charming and historic mountain town. We did several day trips to this town when staying in nearby Saanen. They have a good grocery store here!
---
Y is for Yvorne (VD): We are in luck! There are only four towns starting with "Y" and this one is only a few miles from Chateau-d'Oex! But that is as the crow flies. For us bipeds3, we have to take the train to Montreux, then another train to Yvorne.
Z is for Zermatt (VS): Because everyone has to see Zermatt, the quintessential mountain town at the foot of the Matterhorn, high up in the Valais Alps bordering on Italy. From Yvorne, take the train down the Rhone Valley, with mountains towering up on either side, to Visp (again!!) where we get the Glacier Express (again!!) to Zermatt!!
Lets do a few more "Z" towns, because the Swiss gave us so many to choose from and because we are having such a great time, that we don't want it to end!! Think of these as encore "Z"s.
Z is for Zmutt (VS): From Zermatt, walk to Zmutt a tiny town, really just a few houses and a restaurant, on the hillside above Zermatt (1 hour walk).
Z is for Zug (ZG): Leaving Zermatt take the Glacier Express back to Visp. Take the train back through the mountains to Kandersteg, Spiez, Interlaken and on to Zug, a city between Lucerne and Zurich.
Z is for Zurich: Last short train ride to Zurich, where we end our tour.
Big celebration dinner at the Hiltl, Europe's oldest vegetarian restaurant and our favorite spot in Zurich! I am sure it will be yours too!!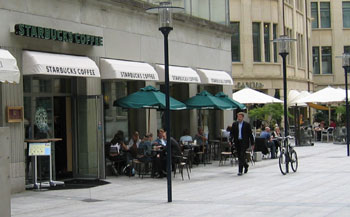 The Starbucks in Zurich!!
---
Z is for the Zees we will catch on the flight home!
Click to sign up for this tour!!
Notes:
1.You are also paying for the accommodations for all the moderators that come on this trip. We will probably choose 4 or 5 star.
2.Guess what this two character code is?
3.Actually crows are bipeds too, but you know what I mean.