Slow Travel Tours!!
Do you want to travel in Europe, but just don't have the time to research and plan everything? We can do that for you! Sign up for one of our tours below and have the "trip of a lifetime"!!
Who Are Slow Travel Tours???
We at Slow Travel Tours have been running the popular Slow Travel community since 2000. During that time we have helped people plan and book their independent trips to Italy and the rest of Europe. We know what travelers want!

Your tour guides are the Slow Travel moderators! Yes, the same people who edit your posts, move them to forums where you never find them again, reprimand you in public, force you to read endless boring pages on the website instead of giving a quick answer, take weeks to post your reviews and trip reports, and never reply to your emails - we will be with you 24/7 on your holiday. That should be fun!
What Do Your Tours Cost???
We have made it simple for you. All our tours are the same price!! You decide what YOU want to do; you don't have to make your decision based on price.
All tours are $10,000 per person!* A bargain when you think of all the time you saved reading and planning and phoning and booking and posting on the message board!! We do it all for you!!
* Price does not include transportation to and from Europe, meals, alcohol, hotels, local transportation, your share of the gas, gratuities, liability and other insurances, clothing, grappa, restroom attendant gratuities, cost of the brochure, medical expenses, your share of the tour leaders expenses, gratuities for your tour leader, and any other expenses incurred before, during or after the tour.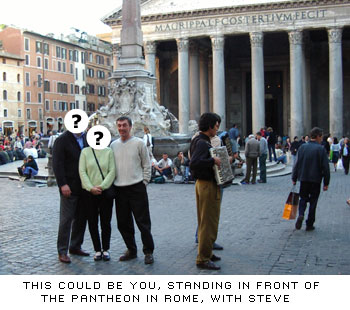 Our Tours!!!
All Night Venice: Hate art, but like alcohol and want to experience the real Venice? This tour will take you to the best places in Venice – the bars. New in 2008!
SlowHoe: Weed it and Weep For those of you who want to return to your agrilcultural roots and help the environment at the same time! New in 2008!
ElderGeezr: A special tour for our older travelers. Updated in 2008!
See All of Europe!: For those of you who are restless, see all of Europe - 12 cities in 10 days!
Highlights of Italy: Everyone is talking about Italy Now you can see it all in two weeks!!
Poggibonsi - Heart of Tuscany: Poggibonsi is the geographical and emotional center of Tuscany - the heart of Tuscany - learn everything about this magical place.
Hidden Florence: This tour shows a side of Florence that you have never seen!
See the Uffizi, in Florence: See the Uffizi Museum in Florence at a pace where you can really see it all!
Almost Italy: See the Big 3 of Italy (Rome, Florence, Venice), without leaving the US!
Switzerland - Altdorf to Zurich: For people who need a purpose for a trip, tour Switzerland from A to Z!!