Slow Travel Airlines - Baggage Policy
SlowAir reserves the right to limit customers' checked and carry-on baggage in terms of quantity, size and style, corresponding with the class of service booked and whether or not our flight attendents went oveboard on shopping expeditions and need extra space for their purchases.
Premier and First Class: Premier Class passengers may check or bring on board as many bags as they like. The same goes for First Class, providing that carry-ons are designed by Prada, Gucci, Balenciaga, or Tim Gunn.

Business Class - Business Class customers are limited to 5 checked bags, each weighing less than 200 lbs, and 4 carry-on items, regardless of whether they fit in overhead bins or under seats. Extra storage space may be co-opted from SlowStack Bunks in order to stow Premier, First and Business class carry-ons. Consequently, SlowAir reserves the right to ask Economy Class passengers who have reserved Bunks to stand in the aisles for the duration of the flight.
Economy Class - Economy Class passengers (Superior, Ultra, and Ultra Ultra) may check one bag not to exceed 10 lbs in weight and 20 inches in combined dimension. These passengers may bring carry-ons, but must pay for the privilege at the following rates: Superior Economy Class, $50 per carry-on; Ultra Economy Class, $75 per carry-on; Ultra Ultra Economy Class, $200 for the first bag and $500 for each succeeding bag. The only style restrictions for Economy Class carry-ons is that they may NOT be designer knock-offs of the sort purchased at Marshalls, TJ Maxx or Chinatown.

No Wait Policy: Slow Air guarantess you no wait for your luggage! Why? Because we don't let you off the plane until after the luggage has been unloaded. Then you deplane and grab your luggage right from the tarmac. No long walks through airport terminals unencumbered, no waiting and watching the luggage carousel spinning around.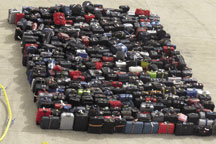 Aren't they organized neatly?
Disclaimer: Checking of bags in no way guarantees arrival. Slow Air assumes no responsibility for patrons' luggage. A $20 retreival fee will be assessed for each bag successfully claimed at port of arrival. A $10 retreival fee will be assesed for each bag proven to be damaged by airline employees at port of arrival. A $50 fee will be assessed for each lost bag you expect airline employees to track down for you. All assessments must be paid to the employee at port of arrival, in local currency (cash that is).