Apartment in Rome
Look no further for that charming, conveniently located apartment in the Eternal City! Once inside the massive front door, the city's bustle dims to a dull roar. Climb the original stone stairs to your private penthouse apartment (you'll be acquiring that famous Italian figure in no time!), admiring how the footsteps of bygone years have marked your passage.
You'll appreciate the owner's refined taste as you admire the antique furnishings and period details. Perhaps that charming sofa predates the unification of Italy? And who could resist the little touches from the past like turn of the century bathroom plumbing and straw-filled mattress?
For a truly authentic experience, live like a native with your cube refrigerator and easy-wash bathroom floor. And in the cozy loft bedroom, the original beamed ceilings and plasterwork so close you can touch them! Fling open the window over the bed, and enjoy the lively sounds of Fellini's Rome by night!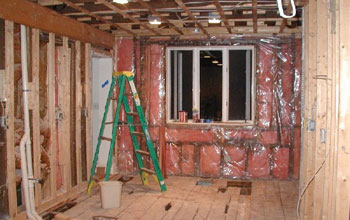 Spacious living room (some touchup still needed)
Our Rome apartment is located in a convenient yet little-touristed corner of the Eternal City. No fear of running into tour groups at the local trattoria! After your week, you'll be an expert at traveling Rome's Metro, bus, and tram system, since you'll be using all three each day. This area is so off the beaten path that even many Romans don't know how to get there! Never fear - our local representative Paolo will enrich your Italian language skills with his directions.
Note: Check-in time will be individually arranged by telephone between you and Paolo, and is dependent upon Paolo's work schedule, lunch arrangements, and mother's shopping list.
This apartment features:
Lovely antique furnishings inherited from the owner's great-great grandmother
Modern bathroom with antique features
Two burner stovetop, antique toaster oven
Cozy loft bedroom (may not be suitable for those over five feet tall)
Unique layout
Friendly neighbors you'll be hearing and seeing often
Convenient, yet non-touristy location
Click to inquire about this vacation rental!!