Slow Dumps
SlowDump assumes no responsibility fo rthe quality of these vacation rentals, the ammenities offered or their very existence.
"Make it your Own" Paris Apartment Rental: Tucked away in the up-and-coming 21st arrondissimont, our lovely Paris hideaway offers everything a cost-conscious traveler could hope for. You'll really be able to live like a Parisian with your very own apartment renovation! With just a little imagination and elbow grease, this 10x10 space can reflect your personality for the duration of your stay. Just imagine the thrill of foraging through the basement of BHV like a native Parisian, on the prowl for that perfect faucet. Relive the 18th century by cooking in your exquisite fireplace, which will warm your heart as it warms the apartment.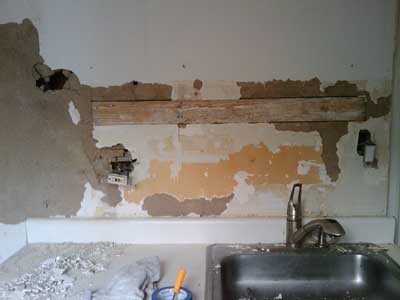 This exciting rental offers:
Four walls dating from the 19th century, with that age's time-honored horsehair plaster-and-lathe on display.
Authentic-looking 19th century reproduction chamber pot.
Candles for those romantic evenings. You'll save a bundle on electricity!
Many opportunities to peek at the neighbors from your window, a mere three feet from the neighboring building. See what Parisians really wear to bed!
A quiet retreat after a long day of sightseeing, since the 11th floor garret benefits from no noisy neighbors clomping above you.
No need to miss your home gym, with the climb up to your cozy retreat!
Winter renters have the added benefit of being able to use the windowsill to store their cheese and pate from the market, no need for a modern ugly refrigerator! (Summer renters will be given the name of a qualified physician in case of any gastrointestinal upsets)
Enjoy eating outdoors and seeing what real Parisians drive at one of the cafes lining the lively peripherique, just downstairs! The smiling waiters will be happy to have you linger for hours over your economical tap water.
Shopping at the bustling outdoor market, a mere six Metro stops away!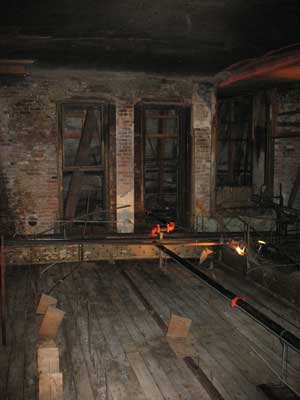 Doesn't it look lovely?
New Tuscany Villa: Tired of the hordes of tourists clogging up tables at your former favorite trattoria? Want to hear just the sweet tones of Italian from your window, instead of the raucous calls of vacationing bankruptcy lawyers? Want to find a simpler, less expensive Italian experience? Here in a secret hilltown, far off the beaten path, is the New Tuscany. These sleepy hills and valleys are full of real Italians, going about their business as they make cement just as their forefathers did before them. Our New Tuscany Villa can only remain unspoiled by keeping the location a secret, so you'll only be given the address as you meet our keyholder at the Autogrill on the autostrada. No worries about relaxing and enjoying your well-deserved vacation, since you'll be enjoying the Simple Life before wireless, dialup, or electricity.
Airy design planned to maximize your views.
Authentic stonework throughout, where you can realize your inner mason.
Peace and quiet, as the only "sight" of note in the region is the church next door, where the crusty caretaker in the cottage next door is lavishing attention on his pigs.
Enjoy constructing your own furnishings from the copious amounts of fallen branches surrounding this lovely property.
Shop at the monthly market, partaking of the simple local delicacies. The region is well known for their ripened porchetta, lovingly stored in underground caves until it develops that unforgettable aroma. You may catch a whiff at the villa!
The walk to the stream where you'll get your water will delight all your senses.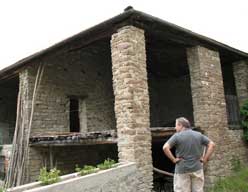 A real rural epxerience!