Apartment in Florence
"Florence, where a scheme and a foolhardy victim
are created when strangers convene."
- Giotto 1267-1337 -
For your stay in Florence we have found the perfect apartment. One bedroom, one bathroom, large windows, a spacious balcony overlooking the Duomo, gourmet kitchen, beautiful antique furnishings, hardwood or tile floors, oriental rugs. Our bookshelves are full of travel guidebooks and novels for you to enjoy (if you don't finish the novel, take it with you!).
The owner lives next door and is happy to help you with anything during your stay in our Florence Apartment. He is a retired University professor and is fluent in English, Italian, French, German, and Spanish. His specialty is Florentine history and he can answer any questions you have about Florence.
Our house book has maps showing you the nearby markets and shops (and a 10% discount card for all Florence shops) and menus for all the best restaurants. On arrival, the owner will take you to the nearby shops and restaurants and introduce you to the owners.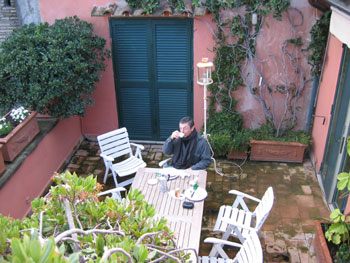 Morning coffee on your private balcony
Your Welcome Basket includes all the makings for your first dinner and breakfast: pasta, sauce (made that morning by the owner), bread, coffee, tea, milk, sugar, cookies, and fresh organic vegetables, olive oil and wine from the owner's Tuscan estate. The International Herald Tribune and fresh croissants are left at your door each morning.
We have 57 glowing reviews of this Florence apartment on the Slow Travel website. It has been a SlowTrav Favorite since 2002. Everyone loves this apartment and you will too!!
Villa American Style™
This apartment has all the "American Style" mod-cons: king size Duxiana bed (from Sweden); Asko washer and dryer (from Sweden); full sized refrigerator (from Germany); gas stove and oven (from Germany); toaster (from England); Mr. Coffee (from England); large, enclosed shower with power shower head (from Germany); screens on windows (from England); phone and answering machine (from China); widescreen TV, VCR, DVD, satellite (from Korea).
Price
$250/week for two people
10% deposit on booking ($25.00), payable by credit card or personal check. The remaining amount due on checkout, payable by credit card or personal check.
Click to inquire about this vacation rental!!
Note: First availability is winter 2012, but you can be put on a waiting list in case there are cancellations. Weekly rental price is indexed to inflation.