New SlowAir Routes
Are you fed up with direct flights? Wouldn't you like to spend more time in the air? Do you long to arrive at your destination in a more natural way so that your body is not jerked out of one time zone and plopped down into another? These are all reasons people are turning to SlowAir, where we make it our business to make sure you arrive slowly.
SlowAir is pleased to announce the opening of several new transatlantic routes designed so that you get the full in-flight experience:
SlowAir Flight #035: Depart Louisville 8am, Arrive Nashville 10am. Connects with SlowAir #3786: Leaves Nashville 3:30pm, Arrives Chicago 5:30pm. Connects with SlowAir #007: Leaves O'Hare 10pm, Arrives London Heathrow 11am, next day. Connects with SlowAir/Air Padania Flight Centocinquantanove: Leaves Heathrow 4:46pm, Arrives Trieste 7:01pm. Connects with Air Padania/Air Trieste Flight zerozerozerotre (turboprop): Leaves Trieste 7:10pm (that must be a mistake - where's my leisurely layover time?), Arrives Milan Malpensa 8:25pm. Connects with AirPadania Flight #1: Leaves Malpensa 10pm, Arrives Venice Marco Polo 11:15pm.

SlowAir Flight #466 (aka "The Midnight Express"): Leaves Tuscon 12 midnight, takes bathroom breaks makes rest stops at Phoenix, LAX, Bakersfield, NY Kennedy, Newark, Dulles and Charlotte before arriving Rome Da Vinci three days later at 12 midnight.

SlowAir #2008: Leaves Battle Creek, MI 9pm, Arrives Catania next day 11am. (Disclaimer: SlowAir does not recommend this flight)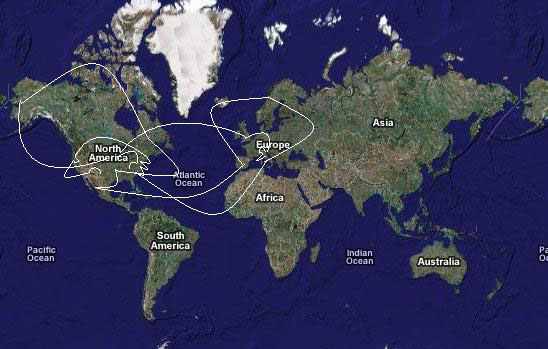 Route Map
SlowAir intends to take full advantage of the opening up of London Heathrow to additional American-based carriers. Check for new routes added daily.
Back to top