Easy-Peasy Cottage
"... were to go no farther northwards than Derbyshire. In that county there was enough to be seen to occupy the chief of their three weeks ..."
- - Jane Austen, Pride and Prejudice - -
We have the perfect English Cottage in the perfect Cotswolds village! And the best part - you choose your Cottage Theme™ - so this cottage can be what YOU want it to be!!
Pick the Cottage Theme™ that Suits You Best
Note: One theme only; they cannot be combined. We must know 7 days ahead of arrival which theme you require (unless otherwise specified).
Literary
England has given us loads of great writers, like Jane Austen and ... Jane Austen. To celebrate the literary heritage of England, we offer the Literary Theme. The cottage will be decorated similar to Jane Austen's last home in Chawton.
Your key keeper will greet you speaking only lines from Jane Austen books. The BBC version of Pride and Prejudice (with Colin Firth) will be playing on the TV as you arrive. The fire will be lit. Tea will be ready.
Your Welcome Basket includes the complete novels of Jane Austen (Oxford editions). Put down your suitcases, pour yourself a cup of tea, snuggle up on the couch, wrap yourself in the hand-knit throw, and re-read your favorite Jane Austen.
Tea Room
Lace, lace, lace! If you like lace, and chintz, and flowers, and little china statues, this is the theme for you! Lace curtains behind flowered curtains, flowered sofa and chairs with doilies on the arms, exquisitely carved tables with lace coverings and hundreds of statues of dogs, cats, people, and village scenes.
Tea is made and the scones are coming out of the oven on your arrival. Several cats greet you.
Your Welcome Basket includes the most recent "Cotswold Life" magazine, stain remover, extra lace, and a sewing kit. A basket of wool and knitting needles are available on request.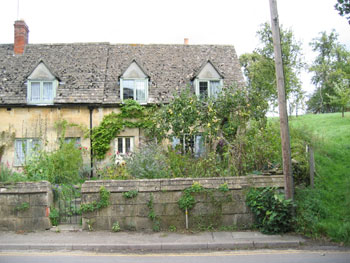 Our perfect Cotswolds cottage - themed to your taste
Pub
Funny posters on the wall (one depicting a group of dogs sitting at a table in a pub - hilarious!), a collection of beer glasses on a special shelf in the kitchen, big wooden tables and chairs in the living room - this theme brings the pub to you!
Your key keepers are the regulars from the pub next door and will be waiting for you in the cottage on arrival day. Your drinks are poured the minute you arrive.
Your Welcome Basket includes aspirin and a fifth of Scotch, for when you just can't take another beer.
Hiker
You came to England to hike, so why not continue the hiking theme in your cottage? Ordnance Survey maps are on the wall, stacks of books with local hikes are ready for you, extra boots are lined up by the door. So that you feel right at home, there will be sheep in cottage (please do not let the cows into the kitchen).
The bathtub is filled with hot water waiting your arrival (to sooth those tired muscles since you probably walked to the cottage).
Your Welcome Basket includes plastic bags for hiking boots (to go into tea rooms), a mud scraper and gaitors.
Grand Castle
Two years notice is required for this theme because we add on 317 extra rooms to make our cottage into a castle! A castle fit for royalty.
The key keeper greets you at the moat and hands you the keys to your castle.
Your Welcome Basket includes heavy sweaters, because castles can be drafty, five Corgi puppies and assorted colorful peasants. A grand ball is included during your stay, including a string quartet, Scottish Pipers, an eleven course sit-down meal, jesters, jugglers, and minstrels. We will arrange for attendance by visiting (minor) royalty.
Zen
Have you had enough of English charm and history? Do floral patterns make you itch? If you drink out of one more dainty tea cup, will you scream? If you want an English vacation rental that gives you a retreat from all that "Englishness", then our Zen Theme is for you.
This is our "basic" theme. We guarantee - no chintz, no lace, no china, no four poster beds - just a futon on the floor, one pot to cook your brown rice, one bowl (per person), and chopsticks.
Your welcome basket consists of a package of brown rice (organic, short grain) and a bottle of well water (glass bottle). And, we promise - no cats.
Villa American Style™
This cottage is fitted out in Villa American Style™ which really is not so hard in England. We removed the English electric kettle and replaced it with a Mr. Coffee. We added a microwave. We did not bother with screens on the windows, because it is never hot enough to need the windows open. Your full sized Maytag washer and dryer are in the outdoor shed.
If you want the "Authentic" style, we left the English electric kettle in a cupboard and you can have fun with the built-in washer/dryer in the kitchen. (Yes, it is one machine that does both! It may take 5 hours, but it washes and then dries. Do not put in more than 4 pieces of clothing at one time.)
Perfectly Situated
For your pleasure, our cottage is next door to the charming local pub! And around the corner from the authentic tea room. And a 10-minute drive from the nearest Waitrose (the store an English visitor cannot live without).
Click to inquire about this vacation rental!!