Slow Car Rentals - a new venture!
Our newest moderator Doru runs this part of the business!
With the increasing importance that travelling slowly has acquired not only in the domain of planning trips but also in the execution of such plans, a new initiative is being launched: Slow Car Rentals Plc.
Where are We?
Everywhere the need for unreliable, slow car rental use and rental of slow cars are needed.
What experience in the field of slow car rentals do we possess?
We are the oldest rental car company in Venice and, drawing on that experience, we have been operating successfully for three weeks now in Christmas Islands, Saint Helena Island and on the island of Elba. The latter two share a history as they were the exile refuges of Napoleon Bonaparte (and this way we can save some dough on stationary). We believe that no other company has as much experience in driving around slowly in circles and spirals as we do.
Who are We?
Entrepreneurial slow and reverse travellers with a sense for what the market will demand 50 - 100 years ago.
Our Cars
We offer the savvy slow driver brand new Topolinos in Italy, Deux-et-demi Chevaux in France, turbo-prop Saabs in Scandinavia and cars-formerly-known-as-Chrysler elsewhere.
Equipped with computer controls: These most up-to-date devices limit the maximum speed to 30 km/hour to satisfy our clientele's commitment to Slow Travel.
Fuel savers and day trip controls: Our cars are equipped with modern and safe fuel cans instead of outdated fuel tanks. This allows our cars to stop after one hour of driving, to ensure passengers don't get too far from their assigned day trips and concentric circles.
Satellite ESP is offered for free in rentals in Christmas Islands and Greenland. Unfortunately for some reason that we are in the process of clarifying, this option is not offered at all in the Kamchatka Peninsula and Long Island. Wait for updates.
For a small fee, specially designed guidebook holders can be installed anywhere but near the passenger's seat.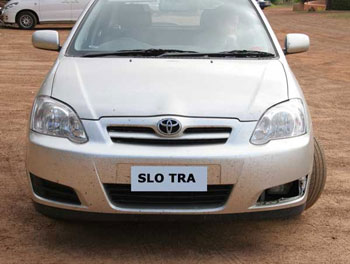 Other Exclusive Features
We rent the ultimate in Slow Travel accessories. All our cars are equipped with satellite ESP, and are programmed to automatically go in reverse when driving uphill, in case our car engines, which consume only naturally grown fuels, mostly gasses, cannot negotiate the slope. These cars also square off beautifully all roundabouts, including those in the direction of the Prada outlet near Montevarchi.
Days and Hours of Operation
Depends, with the exception of daily between hours 23:50 to 23:59 when we are closed anyway.
Fees
We have no hidden costs, excluding those for insurance which require that all drivers above the age of 97 and below the age of 5 pay in advance for funerals. Use our unique "FCG (From Cradle to Grave)" services.
Our fees include special consideration for drivers for BYOG (Bring Your Own Gasoline), BYOD (Bring Your Own Diesel) or BYOGs (Bring Your Own Gasses). BYOS (Bring Your Own Scotch) users are exempt from refilling the bottle before drop off.
!!!Take advantage of our special flat fees for 2007
EUR10,000/USD10,000/GBP10,000/CAD10,000/AUS10,000/VEB100,000 plus airport pickup surcharge, or train station pickup surcharge, or city pickup surcharge, and airport drop off surcharge, or train station drop off surcharge, or city drop off surcharge. Surcharges vary depending on local franchisees' disposition. Special deal on surcharges: No surcharge will apply if the car is picked up or dropped off between the hours 23:50 and 23:59, when our locations are closed.
Unique Opportunity Rentals
Rent to Buy option: Drive 42,355 Km. and the car is yours.
Our Attention to Detail
Faithful to the slow travel philosophy, our car rentals can be obtained with options for driving in right concentric circles or in left concentric circles.
No politics, no profiling, just our typical slow travel moderate convenience!
Note: We do not rent to (*****- edited by Colleen), (********- edited by Amy), (&&&&&&&- edited by Kim). All other ######## (edited by Marta and further-edited by Chris) who are interested in our car rentals have to provide valid Moderated Moderation Certificates.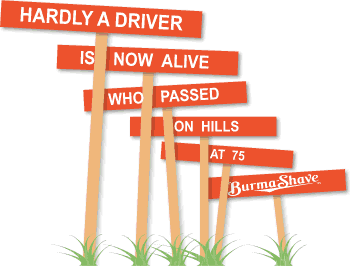 Frequent Unanswered Questions (FUQ)
Frequent unanswered questions (FUQ) (###### edited by Amy, of course!), are presented by our Chief Mechanic located somewhere in Europe for the convenience of our customers.
Q: How do your cars perform in winter:
A: During the winter we install on our cars Purelli winter tyres and anti-oxidant chains, both from Slowinia Securitate stock.
Q (Canadian customer): Why chains on top of winter tires? Isn't this illegal?
A: Well, it should have been obvious: because it cannot be done the other way around. If it were possible, we would have done it already. And we would put studs over chains too.
Q: How good is the maintenance of your cars?
A: We make sure our cars do not hang by a thread or derail from topic. Our repairs are made with the best slow travel board available.
Q: How can you help drivers from countries in which the driving is on the left side of the road?
A: Slowinia and Slowikia, in consideration of drivers used to drive on the left side of the road, allow them to drive in reverse on all roads without restrictions. To further assist these drivers, our cars are equipped not only with rear view and rear looking side mirrors but also with front view and forward looking side mirrors.
More Information
For more information and special St. Patrick and San Isidro rates, contact us:
Please inquire about our well known "All Downhill From Here Car and Tour".