Cook for Crooks
Cook for Crooks assumes no responsibility for the physical well being of any participants. Cost of tattoos not included.
Join us for our inaugural course on elementary cooking techniques in prison kitchens. The class will be held in a pastoral yet gritty area near Pine Bluff, Iowa. The eight hour class will begin at 4:00 AM with a full body search and some quality time with some cute German shepards.
A welcome breakfast of typical prison pastries, mass-produced and imported from China will be offered, then the cooking class will begin. Kitchen manager Hank Petitt, a 20-years to lifetime resident of the prison, will give a short lecture on prison food and will go over topics such as do's/don'ts of prison kitchens (why deep fryers are not allowed, etc.) This will be followed by a walking tour of the kitchen and grounds as soon as the sun rises.
Prison food has two requirements – it must be cheap and it must be nutritious. Learning to cook three meals a day on $2.50 per person per day will certainly be beneficial to your family! Or at least to your checkbook! (*Note – not all mass-markets items we will cook with today are available in the supermarket, but for your convenience you can order supplies at www.cookforcrooks.com/gift shop.)
We'll now start on breakfast, the most important meal of a prisoner's day. Chef Hank and his assistants will teach you the following dishes:
Texas French Toast with Imitation Maple Syrup and C & H Powdered Sugar
Lima Bean American Cheese and Freeze Dried Egg "Souffle"
Compote of Imported (from China) Canned Fruits.
After a short break, where you will have the opportunity to sample your creations before they go out to the dining room, we will get started on lunch (sorry, no entry into the dining room is allowed. We could not get a pass from the warden.)
Chef Hank tries to keep his lunch items similar to the food he experienced on a Carnival Cruise in 1991, so expect to cook dishes such as the following:
Tuna Accented Miracle Whip Sandwich with a side of Crushed Potato Chips
Chicken "Thighs" Stuffed with Reconstituted Carrots, Topped with BBQ Sauce
Corn Syrup Pie with Cool Whip Cream
After a lunch break where you can again sample your creations and enjoy a glass of Kool Aid, there will be a short class on "knife-less skills" where you'll learn how to cook in a kitchen without knives – no easy task, let us tell you!
Since dinner is served early in a prison, Hank likes to offer a hearty nutritious meal that will linger in the belly awhile. You will learn to make:
Imported Iceberg Lettuce and Green Tomato Salad with Pink Dressing
Chili Mac (a prison favorite!) – Elbow Macaroni, Hamburger, and Beans with a Tasty Reddish Sauce, Topped with Velveeta
Orange Jello Salad
At 4:00, the class will be over but not before you get to taste your dinner creations! Upon departing, you will be presented a certificate that you have survived the course and will have the opportunity to visit the gift shop which offers not only food items, but cigarettes and magazines. Tour cost - $795 per person (but feeding all those hungry inmates is worth it!)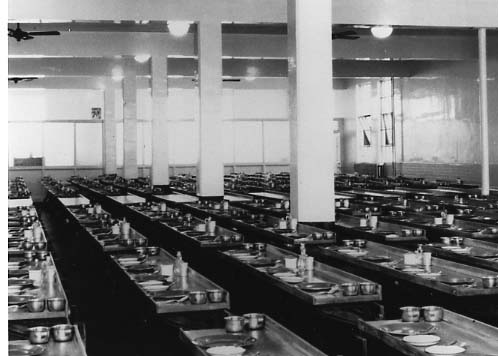 What a great experience - feeding all those hungry men!
Almost France
Dreaming of strolling the avenue Saint-Germain, but too strapped to buy that airline ticket? Want to experience the magic of Provence, but the thought of dipping into your shrinking retirement savings makes you weep? Fret no more — this year you can immerse yourself in the magic of France, experience the sensual pleasures of a French vacation from right here in the US of A! You'll enjoy a stress-free trip where everyone speaks English, the showers have curtains, and the bread's never stale!
Days One to Three— Paris, Maine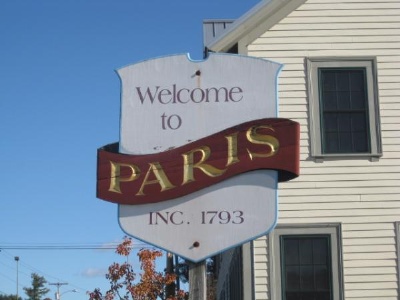 We'll begin our adventure in lovely Paris, Maine. With no jet lag to recover from, you'll immediately be able to set out and explore. Exciting Paris was the home of one Vice President of the United States, Hannibal Hamlin who served with President Abraham Lincoln in his first term. You'll quickly appreciate the wide range of attractions of Paris. You'll never get lost on the Metro in this Paris, where a five minute stroll will bring you from one end of town to the other. You'll never miss the Seine, when you can serenely glide down the Little Androscoggin River in our private rowboat. Shop in the quirky and elegant downtown shops, where you can pick up inexpensive reminders of your trip at the Five and Dime during their Going-out-of-Business Sale. Picnic in the parking lot of the town library, where inside you can enjoy the ongoing exhibit "The Letter Openers of Mrs. G.T. Whipple" without standing in line as you would have to at the Louvre or Musee d'Orsay. Enjoy a glass of the local blueberry wine or a fine domestic brew like Craggy Face Ale, without needing to figure out how to order in an unfamiliar language. For a change of pace, hop over to Oxford or Norway, certainly closer than their counterparts are to the Paris overseas.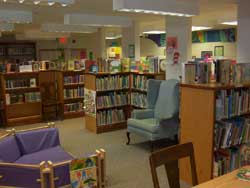 Doesn't the library look wonderful!
No impersonal Paris hotel with snooty staff and miniscule bathrooms for us! We'll check into our charming and exclusive inn, owned by Mademoiselle Pru Parlee. Mademoisele's family is French Canadian from her great-great-great grandfather's dalliance with a Paris beaver skinner named Henrietta, so your experience will be very French indeed. Enjoy Pru's authentic regional Paris specialties such as tarte d'orignaux, ragoût d'orignaux and boules d'orignaux.
For that typical Paris experience, she and many of her neighbors keep dogs of all sizes whose "crottins" give Paris it's unmistakable sidewalks. And you'll even have the domestic version of the Eiffel Tower, when Luc d'Orleans turns on the lights atop the municipal water tower every evening on the hour for a breathtaking display.
After say our goodbyes, it's back on the bus and on to wonderful...
Days Four and Five--Orange, New Jersey!
Tucked away in the scenic backwaters of Newark lies the lively hamlet of Orange, New Jersey. Known for its waters and unique night life, Orange attracts a traveler who is searching for something truly local and untouched by the trappings of tourism. We'll enjoy staying in Bob's No-Tell, an independently owned small hotel enjoying a scenic position at the crossroads of charming route 280 and the Garden State parkway.
Relax and enjoy a swim in the calm waters of the Passaic River, where the shores teem with all kinds of wildlife. No need for a car to explore the scenic roads, as your Almost France guides will be happy to demonstrate that Northern New Jersey transportation technique of hitching a ride just before the 280 entrance ramp on Northfield Avenue. If you position yourself at the traffic light with a squeegee, you can even make some money for your excursions! Be sure to not miss Orange's noteworthy ancient ruin, the remains of a mid 20th century brewery bottling plant, the Rheingold Beer factory, legendary for its time-honored recipes and use of the sparkling waters of the Passaic river.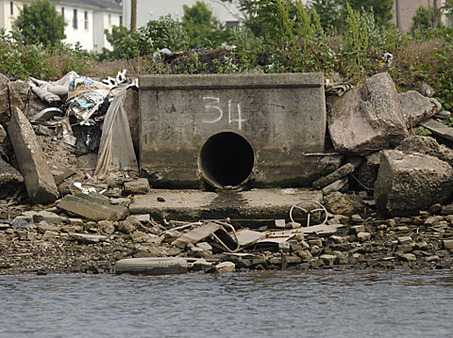 Doesn't that look inviting?
No trip to Provence is complete without a visit to the weekly market. Here in Orange, you'll be able to shop the inviting treasures at the Sisters of Saint Claire's Thrift and Rummage Sale every Saturday in the church parking lot. Who knows what offbeat antique you'll uncover! And if you're in Orange in the summer you'll be in for a real treat, when the town festival honoring native son Roy Scheider takes place. Continual showings of episodes of Scheider's television masterpiece SeaQuest DV in the library will be an event to long remember.
And remember that night life? As the sun goes down, the local eateries spring to life. Enjoy strolling down Avenue Central looking for that perfect French fry, past Chez Jumbo Jack's Fast Food, Café Wendy's, Le Burger King, Chez Subway, and the always-popular Chez McDonald's.
Provence Option Two
Or, if you would rather experience a Provence that offers more outdoor activities, sign up for our PROVENCE OPTION 2 – and enjoy a stunning bike ride to Provence, Oklahoma where you will be able to enjoy the wide open spaces of the southwest!
You will stay in one of the WPA built log cabins at Lake Murray State Park, decorated with the charming recycled plastic lawn furniture and cheerful crocheted toilet-paper holders well known as an artistic highlight of the region. As a very special treat, we will schedule a tour of the 6 local cemeteries (McMillan, Mt. Zion, Nelda, Provence, Pruitt and Wilson) where you can get a sense of local history. Don't miss the onsite cooking class, where you can learn from the local women such delicacies as moustique frit and potage de fourmi. And when you are ready for city amenities, nearby Ardmore offers regional dining specialties at restaurants such as Casey's Catfish Corral, the Cattle Rustlers Steakhouse, or the charming Old Time Soda Pop Shop. Among Ardmore's claims to fame are its native daughter, actress Rue McClanahan, and its annual Red River Roadkill Rally and Black Gold Festival celebrating the region's oil heritage. Imagine being able to participate in the harvesting of the "black gold" and bringing some home as a culinary reminder of your trip to Provence! Your cooking will be the talk of your friends and family.
Stimulus Package Tours
1. Tired of going the sterile hotel route? Pricey apartments getting you down? Then experience firsthand a crumbling infrastructure at SlowDumps.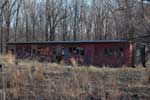 These bottom-ranked rentals offer you not only the chance to relax in authentic settings, but you will be bucking the trends AND never have to worry about hotel staff disturbing your space. Remember, today's dumps may be tomorrow's antiquities. There simply isn't a more cost-effective way to have your immersion experience.
2. Spend less, complain more. Join this new self-help travel group known as SlowMopers. Miss your train? Don't worry – you can have plenty of shoulders to kvetch on. Cost of gasoline getting you down? Cry in everyone's beer! New shoes – got blisters? Commiserate and compare battle scars! There is nothing too trivial nor ear-bending here – EVERYTHING complain-worthy is safe in this nurturing, encouraging environment of like-minded travelers.
3. As part of the incentives offered for all capital expenditures for travel, effective immediately, the SlowFood movement has officially changed its name to NoFood. This is consistent with a truly laid-back vacation philosophy.