Swiss Chalet
"Yes, today a paradise in the Swiss Alps. Tomorrow a wasteland."
- - The Return of the Pink Panther, 1975 - -
This charming Swiss Chalet1 is located an easy 90-minute uphill walk from the nearest parking area. Or take the gondola from town and request a stop at the "Swiss Chalet" balcony (you don't have to jump, they will suspend a rope ladder from the gondola).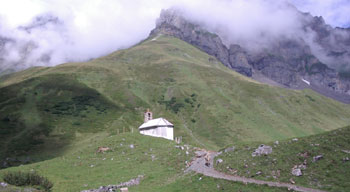 Walking path up to your chalet
The chalet is designed to sleep from 2 to 232 people. How do we do this? Using our unique Swiss Army Furniture™ technology! You decide how many beds, dining tables and living room chairs are to be used with a simple press of a button (ladders are provided to reach higher furniture levels). The photo below shows a set of triplets and their brother comfortably housed on one wall of the bedroom.

Our charming key keeper, Adele Weis, will greet you on arrival (check in time 17:00 - 17:05, Saturdays only) and show you the chalet. She will have prepared a traditional "welcome basket" for your group consisting of packages of hot chocolate mix, chocolate cookies and, of course, Toblerone bars. A pot of cheese fondue will be bubbling on the stove.
Daily maid service is not available, but Adele will drop by each morning (7:00) to make sure you are keeping the chalet clean: your beds must be made, garbage and recycling must be wrapped and in the correct containers, your shoes and boots must be clean. She will also make sure you have not hung anything from the balcony. At the end of your stay, Adele will help get you on your way (check out time 6:20 - 6:25, Saturdays only).
The chalet is equipped with Satellite TV, DVD player, VCR, stereo, broadband Internet access, computer, webcam, portable GPS system, and a GPS beacon for finding your way home after dark.
The laundry room is available on Wednesday morning, 6:00 - 7:00. Laundry may be hung outside, in the designated area, on Friday afternoons only (14:00 - 15:00).
Options
Fresh Milk: Your own cow will be waiting beside the chalet so you can have fresh milk each morning. A goat or sheep is optionally available for those with special dietary needs. $2,000 per week
Experience the Farm: A charming Swiss farming couple will meet you at 6:00 and take you down to the village. You will help them bring their cows from the village up to the alpine meadows. You will participate in milking the cows and making fresh cheese. After a lunch of bread, cheese and fresh milk, you will walk back down to the village and help them "hay" several fields and store the hay in the barns. After a snack of local white wine and cheese, you will walk back up to the alpine meadows, make sure the cows are safe and sound and then walk back down to your chalet, where you will have a well-deserved sleep (after your dinner of bread dipped in cheese fondue). $2,000 per person
Payment
When you book this chalet, a numbered Swiss bank account will be opened for you in Zurich. Bank wire $10,000 for each rental week into this account. We will withdraw the money as your expenses are incurred.
Click to inquire about this vacation rental!!
1. For our Canadian visitors, we are not related to the restaurant chain although you can find good chicken in Switzerland.
2. Sleeping 2 per bed, 6 rows of beds on 2 walls, and one person on a couch. The combined weight of all guests cannot exceed 1600 kilos.