Amsterdam Canal House
Don't worry – Be Happy!
A lovely apartment located in a two story canal house. This apartment is perfect for seeing the true Amsterdam. The lower level is entered through a doorway right off the bike path – don't forget to look both ways when you exit to avoid the bike commuters!
The décor is clean and ultra-modern in the stunning Dutch national colors of royal blue and brilliant orange sparingly accented in lime green. We will even point out the furniture in the Ikea catalog so you can recreate the ambience at home in America.
Just off the living room, you will find the fully equipped kitchen complete with a two burner stove, convenient under-the-counter refrigerator and sink. Everything is within easy reach in fact step too far and you are out of the kitchen. Under the stairs is the cozy water closet – or toilet for our American visitors.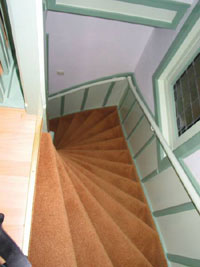 Up the stairs is the bedroom. Don't worry about the steepness; just use your hands to crawl up the stairs like a ladder. The tall curtain-less windows overlooks the canal and provides a view directly into the apartment across the canal. No worries about the scent of the canal on a hot summer night, several fans are provided to create a breeze in your apartment. The shower is also located upstairs in a fully tiled bathroom. Sorry no toilet upstairs but don't worry about navigating the stairs at night to reach the WC just turn around and crawl back down.
You won't need an alarm clock. The local church bells start promptly at 5:30am to get you off to an early start.
There are several coffee shops located in the charming neighborhood to get help get happy. The local bar is just two doors down. Join the crowd to loudly cheer a local Ajax football (soccer in America) game. Don't worry - it closes at promptly 2am. You can be reassured that the patrons leave because you will hear the click of heels on bricks and the vroom as they speed off on their bromfiets (small motorbikes).
Don't miss this opportunity and rent this apartment today!
And remember – Don't worry – Be Happy!
Click to inquire about this vacation rental!!